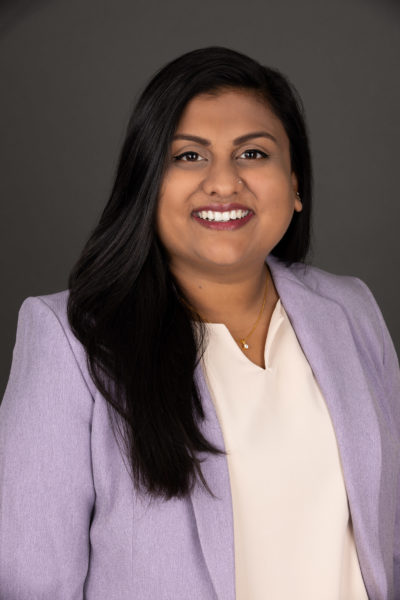 Kisha Patel is a family law attorney in our Raleigh office. She represents clients in all areas of family law including child custody, child support, alimony, domestic violence, equitable distribution, divorce, mediation, separation agreements, and adoptions.
Hear from Kisha in her own words, why she became a family law attorney:
Growing up I was the loud, studious, and outspoken child in the classroom. Because I always loved being in charge, everyone said that I would grow up to become a lawyer. At some point, I decided that maybe they were right, and I set off on that path.
I went to Ursinus College in the small town of Collegeville, PA, where I received my B.A. in Politics and Gender & Women's Studies. After graduating from college, I moved to Chapel Hill to attend law school. During my time in Chapel Hill, I fell in love with North Carolina. I knew from then on I would be a Carolina girl. At Carolina Law, I learned the tools to become a successful attorney through internships and experiential learning. I trained my advocacy skills as a member of both the Holderness Moot Court team and the Broun National Trial Team. By volunteering, I found that I have a passion for family law and helping families. 
I grew up as a child of immigrants from Gujarat, India. While I grew up in America, I have strong Indian roots and I understand the importance of family and the influence of culture in your life. I have a distinctive ability to connect with my minority clients, their parents, and family. I understand how to represent their interests both here in the United States and abroad. I also know that there are cultural traditions, unique assets, and special circumstances that have to be addressed in the divorce process. I am able to work with my clients to value wedding jewelry, track down property owned in other countries, and find experts to testify about the cultural practices tied to the assets my clients own.
I want to be a voice for you when you need someone in your corner. I remember my parents going through a divorce when I was a young child. During that time, it felt like everyone was making decisions for me and my whole world was changing faster than I could keep up. As the years went on, I was able to provide some input on where I wanted to be and who I wanted to live with. My dad's attorney took the time to listen to me and fight to get me what I wanted and let me have autonomy over my life.
All these years later, I am now the attorney that can give a voice to you and your child. I can help fight for what is best for your family. I will take the time to make sure I truly understand your wants and needs. I have seen firsthand the emotional and physical stress that fighting for divorce or custody can take on you. I will take your legal issues, concerns, and worries and put them on my shoulders to help ease the burden on you.
Outside of work, you can find me testing and creating new vegetarian recipes, volunteering at organizations close to my heart, and cheering on the Tar Heels!
Kisha Patel Clients' Choice Award 2023
LANGUAGES
AWARDS
Listed in Best Lawyers: Ones to Watch® in America 2024
Client Choice Award, Avvo 2021-2023
MEMBERSHIPS AND AFFILIATIONS
North Carolina State Bar
Licensed to practice before all North Carolina State Courts
Wake County Bar Association 
EDUCATION
J.D., The University of North Carolina at Chapel Hill
Kilpatrick Townsend 1L Mock Trial Competition Outstanding Advocate
San Diego 2018 Defense Lawyers National Mock Trial Competition
Broun National Trial Team, Secretary (2018-2019), President (2019-2020)
Holderness Moot Court Civil Rights Appellate Advocacy Team
Conference on Race, Gender, Class, and Equality, Panel Coordinator
Eugene Gressman & Daniel H. Pollitt Oral Advocacy Award
UNC Graduate and Professional Honor System, Honor Court Chair (2018-2019)
BA Politics and Gender & Women's Studies, Ursinus College
Dean's List
Honor's Thesis: "My Body, Not My Say: How Roe v. Wade Endangers Women's Autonomy" (discussing the
Constitutional limitations of Roe v. Wade and the privacy doctrine and its effect on the regulation of reproductive
freedom in the law)
Student Conduct Judiciary Board
Pre-Legal Society, President
Mock Trial, Captain