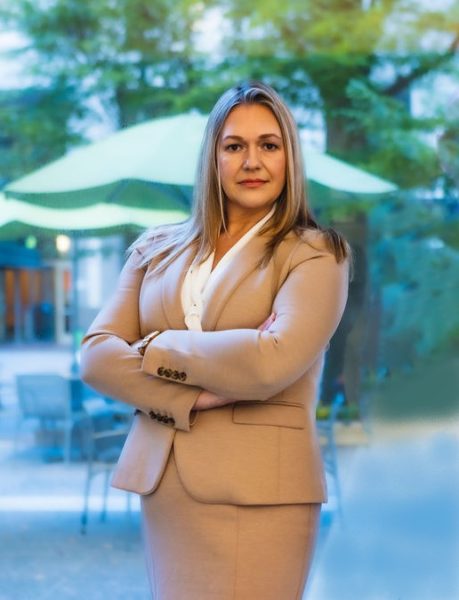 Angela McIlveen, Board Certified Specialist in Family Law, is the CEO and Co-Founder of the McIlveen Family Law Firm. She is the driving force behind the growth of the law firm. Angela and her husband and business partner, Sean McIlveen are committed to growing a practice that serves families and is a great place to work for employees. 
Angela McIlveen says, "The first thing you will notice when you meet me is that I genuinely care about the clients of the Firm. Maybe it's because I remember going through my parents' nasty divorce when I was 6 years old. I know how my parents' divorce impacted my life and growing up with my dad when kids didn't grow up with their fathers definitely shaped my life. In case you are wondering, no my mom wasn't a bad person. My dad just had the best attorney in town." Having witnessed her own parents' divorce and custody battle, Angela McIlveen knows how hard divorce can be for children. 
She also has the unique perspective of having gone through her own custody trial. Angela was actually called as a witness and had to testify in court. Having lived through her own case, Angela McIlveen knows how crazy going through a divorce or custody lawsuit can make you. 
When asked about why her colleagues say she is aggressive, Angela says, "I wouldn't say that I'm aggressive. I would say that I'm passionate about my clients and what I do. Whether I am in or out of the courtroom, I give it my all. And I hate to lose!"
While Angela lives for the courtroom, she knows that it isn't always the best place for clients to resolve their disputes. Despite her reputation for being a tough divorce lawyer, she is always willing to discuss a reasonable settlement. In fact, Angela McIlveen thinks that most cases should be resolved outside of the courtroom through mediation. 
Angela McIlveen is often called on to speak at conferences and to teach continuing legal education to attorneys in the community. She is also a frequent guest on both tv and radio. She is an avid reader and writer and enjoys traveling to new adventures. When Angela isn't running the law practice, she loves spending time with her grandchildren and her husband, Sean McIlveen. 

AWARDS
Top 20 Family Law Attorneys In the Carolinas, NC Lawyers Weekly
Rising Star, Super Lawyers 2017
Rising Star, Super Lawyers 2016
Rising Star, Super Lawyers 2015
Avvo 10.0 Superb Rating
Top 10 Client Satisfaction, American Institute of Family Law Attorneys, 2015, 2016
Top 40 Lawyers Under 40, American Society of Legal Advocates 2014, 2015
Client Choice Award, Avvo 2014
Top 40 Under 40, National Trial Lawyers 2014
GLM International Marketer of the Year 2015
America's PremierExperts in Publishing Expert Content America's PremierExperts 2013
National Membership, Order of Barristers 2006
SPEAKING ENGAGEMENTS
Child Custody Evaluations, NBI 2022
Finance 101 for Family Law Practitioners, NBI 2021
Tools for Tackling Financial and Parenting Aspects of Divorce, NBI 2020
Family Law From Start to Finish, NBI 2019
Adoption Law from Start to Finish, NBI 2019
Divorce Law: Financial Documents and Mistakes 2019
Building an Inc. 5000 Law Firm, Lawyernomics by Avvo 2018
Divorce Law: Common Mistakes in Dividing Assets, NBI 2017
Advanced Divorce Law Valuing and Dividing Complex Assets: Stock, Pensions, Retirement and more, NBI 2016
RECENT ARTICLES AND INTERVIEWS
Think Fast: Discovering an Unfaithful Spouse, WBTV interview
Gaston Gazette
Breaking Down Walls, Broke Down Barriers
Arroe Collins 99.7 Unplugged and Totally Uncut
MEMBERSHIPS AND AFFILIATIONS
North Carolina State Bar
Florida State Bar (CLER exempt)
Charlotte City Club, Member
Lawyers Mutual of North Carolina, Board Member 2019 - Present 
Lawyers Mutual of North Carolina, Community Board Member 2016 - 2019
Gaston County Bar Association, Member 2013 – Present
North Carolina Bar Association, Member 2009 – Present

Family Law Section Attorney, 2012 – Present
Law Practice Management Section,  2013 – 2017
Technology Subcommittee 2013 – 2017
Nominating Committee 2013 – 2015
American Bar Association, Member 2013 – Present

Law Practice Management Section,  2013 – Present
Family Law Section,  2013 – Present
Litigation Section,  2014 – Present
North Carolina Advocates for Justice, Member 2022 - Present
National Institute of Trial Lawyers, Member 2014-2016
National Women Trial Lawyers, Member 2014 – 2016
Answer Scholarship Committee, Member 2012 – 2015
EDUCATION
J.D. Case Western Reserve School of Law, Concentration in Litigation
Member, Order of Barristers National Honor Society
B.A. English, Lenoir-Rhyne University