Family Law Consultation FAQ
Should I Pay an Attorney for a Family Law Consultation?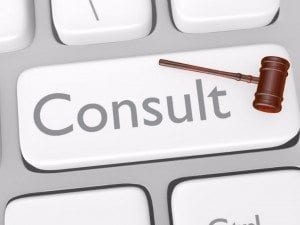 Most family law attorneys charge for an initial family law consultation. Attorneys typically bill by the hour for family law cases. Because attorneys "sell" their time, the cost of the consultation will vary. Some law firms set the consultation fee based on the attorney's hourly rate and other firms charge a flat fee for the initial consultation. The initial consultation fee pays for the lawyer's time. Think of the last time your doctor, dentist, or car mechanic offered to spend an hour with you discussing your problem and giving you options without charging you for their time. At the McIlveen Family Law Firm, we think the initial family law consultation is critical for potential clients. During the consultation, the attorney will listen to the facts surrounding your case, discuss the law with you, and strategize with you on how best to achieve your goals. It is our mission to educate our clients about the law so that you can make the best decisions for your case. We know that family law is not one size fits all. The initial consultation gives you a chance to gain insight into your case and determine if our firm would be the best fit for you. The attorney will also explain the next steps and provide you with a quote for moving forward with the case. Call us at 877-351-1513 to schedule your one-on-one consultation with one of our family law attorneys.
I know exactly what I need, so can't someone just quote me over the phone?
While it may seem like you know what you need, family law cases are very fact specific and there may be options that are better for you that you didn't even know to ask about. We have learned that the initial consultation is the best place for the attorney to get all of the information necessary to give you the best possible advice. Giving advice over the phone without knowing all of the facts could lead to disaster. Also, be wary of law firms that are giving advice over the phone. You likely aren't speaking to an attorney. Paralegals, Receptionist, and other non-lawyers are not allowed to give legal advice. They haven't been to law school and while they may be trying to help you, their advice could harm your case.
What can a lawyer tell me that Google can't?
Google and online search engines are great places to do some initial research about your case but they aren't a substitute for real legal advice. Most of what you will find online is generic. Law comes in many forms. What most people think of as the law are statutes that are enacted by the government. The United States has federal laws, and each individual state has laws that directly impact your case. Perhaps more important than the actual statutes is the case law. When the local county court Judge or Jury issues a verdict in a case, that case ruling can be appealed. The first appeal in family court cases generally goes to the state Court of Appeals. The Court of Appeals reads the case file, briefs submitted by counsel for both parties, and sometimes hears oral argument on the issues. Then the Court issues an opinion interpreting the law (statute) as it is applied to the facts of the case. If the parties aren't satisfied with the Court of Appeals ruling, they can appeal to the state Supreme Court. Some cases can even be appealed to the United State Supreme Court. These rulings by the Appeals Court create case law that tells the lower courts how they must rule on future cases. Lawyers go to law school to learn how to read statutes and case law and apply them to their client's facts. In most states to become a lawyer, you must go to college and get a bachelor's degree, go to 3 years of law school and take a state bar exam.
What if I don't hire you, have I wasted my money?
Certainly, it is frustrating to think that you may have a consultation with an attorney and not hire them but it isn't a waste of money. During the consultation, we will give you legal advice and help you strategize on ways to get the best outcome in your case. We may offer advice or solutions that you didn't even know were possible. It is our goal to make the consultation experience beneficial to you. The initial consultation fee is $250.00 flat rate for 1 hour. We can do consultations in person, over the phone, or via Skype. We frequently represent people living out of state and overseas. If you decide that we aren't the best fit for you, we can offer you a list of referral sources that may be able to help you. We can also provide you with forms and checklist that you may find helpful. It is our goal to make the divorce consultation experience beneficial to you. Before you move out of the house, move your children to another city or state, move money out of accounts, or make other important steps, please consult with a  divorce lawyer. These decisions can have lasting impacts on your case. In family law, your case is really your life. Call our office today 877-351-1513 to schedule a consultation with one of our award-winning family law attorneys and get the information you need to make important life decisions. We have family law attorneys ready to help you.
McIlveen Reviews*
Review for McIlveen Family Law Firm
This is a wonderful law firm. Allie went above and beyond to help with my needs!!!!
Review for Mediation
Initially, I was very nervous about choosing an attorney. However, my first (no commitment) meeting with a McIlveen attorney in July 2015 was pretty satisfactory. Last week we had our mediation which wrapped up all the loose ends and I think the final deal was fair to both parties. My Attorney, Anna Carpenter did an excellent job by remembering all the details, having all documents ready on her laptop and being very competent in her work. So, thanks you Anna.
Review for Child Custody
This is who you want on your side.
Chelsea Chapman is an amazing lady. She is very respectful and knowledgable as well as her staff. We retained her for Child Custody. She answered all of our questions plus more. Always there for you when she is needed. Custody is never an easy thing to go through Chelsea and her staff guided us in the right direction and helped us win our case. Thank you, Chelsea.
Reviews are not specific to state or topic. All cases are different. Choose carefully when hiring an attorney.
Schedule a Consult today: 
[pardot-form id="1728″ title="Contact Us Form"]